Bexhill High School in East Sussex given damning Ofsted report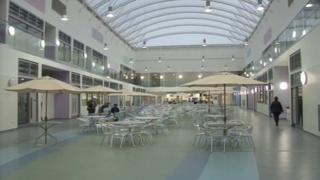 Inspectors have recommended that an East Sussex school which reopened as an academy five months ago is put into special measures.
Bexhill High School was rated inadequate in an Ofsted report, which said it was failing to give students an acceptable standard of education.
The document said the standard of work was below average in all year groups and in most subjects.
Greg Barker MP said early indications for this year's GCSEs were encouraging.
But the Conservative MP for Bexhill and Battle added that there was still "a long way to go".
The school became an academy in November and was formally opened by Education Secretary Michael Gove the following month.
The inspection was carried out on 27 and 28 February.
'Teachers expect too little'
The report said students underachieved and their progress was too slow.
It added that those with special educational needs were not provided for well enough in lessons, and that students should attend more regularly.
"Teaching is not of sufficient quality, or improving with enough urgency, to enable students to make up the ground they need," the report said.
"Teachers expect too little of students."
The document said the academy's governors were "too accepting" of low standards.
However, the report did say that students behaved respectfully towards each other and adults, and that the new building provided an "attractive and stimulating environment for learning".
Some students benefited from "very well organised" vocational courses, it added.
The report said teaching needed to be improved considerably, so that GCSE attainment was "broadly average" by summer 2014.
In a statement Prospects Academies Trust said: "Bexhill has a recovery action plan to move forward out of category [the inadequate rating] at the earliest possible opportunity with a robust secure solution for the successful future of the academy."
The trust said its measures included suspending the governing body, undertaking a full review of the leadership structure, carrying out a staff and student survey and establishing a programme to improve the quality of teaching and marking.