Michael Polding death: Inquest verdict of unlawful killing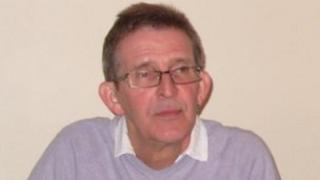 A verdict of unlawful killing has been returned by an inquest into the death of a man whose decomposed body was found on a bed in his flat in Brighton.
The body of Michael Polding, 62, was found last July after concerns were raised by his family in Scotland, and may have been there for two months.
Coroner Victoria Hamilton-Deeley concluded he died between 23-30 May.
Detectives believe his partner, Ricardo Pisano, who has since vanished, was the last person to see Mr Polding alive.
Broken bones
The inquest at Brighton Coroner's Court heard that on 14 May Mr Polding had attended a hospital's A&E department with rib and head injuries.
His body was too decomposed to be sure of the exact cause of death but he died with a number of injuries, which included broken ribs and a fractured collar bone, the inquest heard.
Giving evidence, Hannington Oboto, a business colleague of both men, said he had called at the flat in St George's Road on 22 May and had seen Mr Polding looking "very ill and weak".
Mr Oboto suggested an ambulance should be called, but Mr Pisano, who lived with Mr Polding, reacted with anger to this, he said.
Ms Hamilton-Deeley concluded: "Mr Polding was living with a dangerous man, in an abusive relationship, possibly the victim of extortion."
Last December, detectives set up a website to trace his friend Mr Pisano - also known as Brandon Victor Pillay, Ricky and Ree - and offered a £5,000 reward for information leading to his arrest.
He is thought to be aged in his 30s and has a South African accent, and is believed to have walked out of an open prison in New Zealand 10 years ago after being convicted of fraud offences.
Speaking after the inquest, Det Insp Jon Fanner, of Surrey and Sussex Major Crime Team, said Mr Pisano had a background of extortion.
"The evidence points to a history of domestic abuse," he said.
"It was no coincidence that Mr Polding's bank account had been drained of money after his death."
'Some closure'
Det Insp Fanner said the investigation into Mr Polding's death was "still very much ongoing", along with the search to locate Mr Pisano.
In a statement, Mr Polding's family said: "We continue to try to come to terms with Michael's death and miss him greatly.
"The inquest offers us some closure but we cannot start to move on with our lives until we can fully understand what happened to him.
"We would appeal for anyone with information about 'Ree' or his whereabouts to contact police to help all of Michael's family and friends piece together his final hours."