'Extreme knitting redhead' Susie Hewer in marathon record bid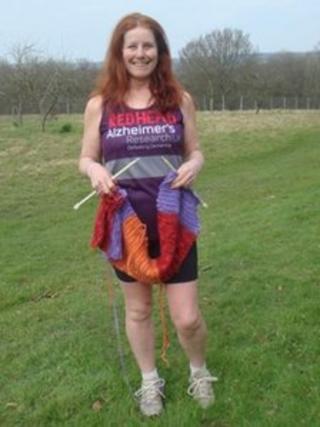 A fundraiser from Sussex will attempt to break her own world record for knitting the longest scarf while running a marathon.
Susie Hewer, known as "the extreme knitting redhead", will attempt the Virgin London Marathon in aid of Alzheimer's Research UK on 21 April.
The 55-year-old, from Ewhurst Green, will warm up by running the Brighton Marathon next Sunday.
She will take on a 111-day running challenge after the London race.
Ms Hewer plans to run at least 5.5 miles (8.9km) a day for 55 days, until her 56th birthday in June.
She will then increase the distance to at least 5.6 miles (9km) a day for another 56 days.
'Cure dementia'
Ms Hewer ran her first marathon for Alzheimer's Research UK in 2005, two weeks after the death of her 89-year-old mother Peggy who had vascular dementia.
She has set two world records at the London Marathon, knitting the longest scarf while running a marathon in 2008 and stitching the longest crochet chain in 2010.
She said: "I'll have neck ache by the end of it, looking down to ensure I don't drop any stitches, but it will be worth it to help Alzheimer's Research UK progress with its ground breaking research."
Parminder Summon, the charity's community fundraising manager, said Ms Hewer had raised nearly £25,000 during the past seven years.
"Her remarkable contribution is bringing us closer to finding ways to diagnose, prevent, treat and cure dementia," he said.