WWII plastic surgeon Sir Archibald McIndoe statue appeal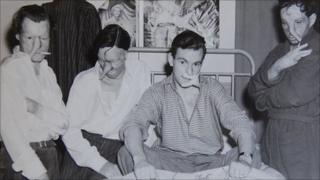 Plans for a statue of the pioneering World War II plastic surgeon Sir Archibald McIndoe have been revealed.
The doctor performed surgery on severely burned aircrew at Queen Victoria Hospital, in East Grinstead.
In 1941 he formed a drinking club for patients, The Guinea Pig Club, which by the end of the war had 649 members.
A model of the statue, which would be erected in the centre of the West Sussex town if funding is achieved, was revealed to some of the men he treated.
The bronze statue will cost an estimated £170,000 and will be 7ft (2.1m) high. It is hoped it will be installed in 2014.
'Beer into the wards'
Sculptor Martin Jennings said: "McIndoe is standing with a seated patient who is looking up at the sky he cannot fly in any more.
"He is still wearing his uniform, which is something McIndoe insisted upon, he is also turning his head towards his doctor."
During and after the war his burns unit developed surgical breakthroughs in tandem with vital psychological support.
Sir Archibald's daughter, Adonia Montford Bebb, said: "He got beer into the wards, he got pretty girls to look after them and he got people to entertain them.
"The most important thing is he got East Grinstead to accept them, which they did."
One of the Sir Archibald's patients, Des O'Connell, said: "We had the feeling right from the very beginning that he would mend us."