Hove residents urged to help preserve Medina House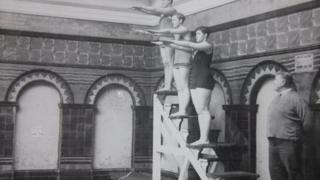 A plea to help preserve a 19th Century bathhouse that has faced two demolition threats has gone out to Hove residents.
Brighton council said residents were being asked to take part in public consultation on the future of Medina House on Hove seafront.
The authority said the former slipper baths and laundry had been the subject of several planning applications that were all refused or withdrawn.
It said it had received two applications about demolition plans.
Councillor Geoffrey Bowden, chairman of the economic development and culture committee, said Medina House had a fascinating history and was well-loved by the community.
He said he hoped residents would comment during the consultation and help the council to produce a planning brief that would seek to preserve the building and its surrounding area.
A consultation on the plans runs until 30 April.