Shoreham-by-Sea roundabout 'shepherd' reassures drivers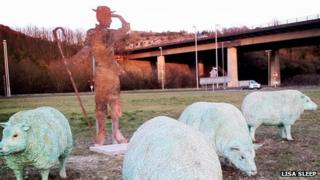 Fake green sheep that were removed from a West Sussex roundabout after some motorists thought they were real are back - along with a 6ft tall shepherd.
The plastic flock was installed at a junction on the A283 in Shoreham-by-Sea in November 2011 to promote the South Downs National Park.
They were later put behind barriers to stop people thinking they were real.
West Sussex County Council then removed the sheep after some drivers reported animals roaming loose.
Local artist Danny McBride was commissioned to design the steel shepherd to make it clear the sheep were not real, the authority said.
Barry Candy, highways manager for the county council, said he believed the problem had now been solved.
"Someone had the bright idea of a steel shepherd cut out to reassure drivers that the sheep weren't at all real," he said.
"This was installed yesterday - we hope the problem will now go away."