University of Sussex protesters to be evicted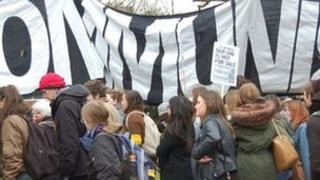 The High Court has ruled that protesters should be evicted from part of the University of Sussex.
On Thursday the university was granted a possession order to regain the area of Bramber House occupied by the protesters since 7 February.
A spokesman for the protesters said: "It's a sad, sad day for higher education and there will be nowhere we can legally protest at the university."
The protest was over the outsourcing of support services.
John Duffy, the university's registrar and secretary, said: "It is regrettable that we have had to take this issue to court.
Argue case
"The court has seen the evidence from the university and heard the arguments of the occupiers.
"It has confirmed that the university has the right to bring the occupation to an end. We would want the occupiers now to leave peacefully."
On Monday students from around the UK joined the protest and an injunction was granted later on Monday to prevent more demonstrations.
On Wednesday a High Court judge delayed a decision on the eviction of protesters at the university to give them more time to argue their case.
The spokesman for the protesters said those occupying the university had been told they had until midday to leave the building.