University of Sussex protest eviction postponed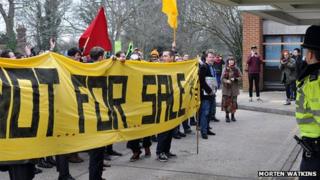 A High Court judge has delayed a decision on the eviction of protesters at the University of Sussex to give them more time to argue their case.
University officials applied for a possession order following Monday's mass demo at the Brighton campus.
But the judge adjourned proceedings to give the protesters, who are fighting plans to outsource support services, more time to prepare their case.
Students say lawyers are offering to help the protest group free of charge.
Peaceful protest
Some students held a smaller protest at the campus to coincide with the High Court hearing.
Police said the lunchtime campaign was peaceful, although they had protest-liaison and public-order officers on standby in case of a repeat of Monday's troubles, when, they claim, parts of some university buildings were damaged.
A member of Occupy Sussex, which is behind the seven-week occupation of one of the university buildings, said more than 200 people joined the protest, which was called at short notice.
Both the university and police suggested the figure was nearer 100, although there was no trouble and no arrests were made.
There was also a demonstration outside the High Court in London, where the university began legal action to regain access to Bramber House on the Brighton campus, part of which has been occupied by students since 7 February.
It already has an injunction to prevent more demonstrations similar to Monday's, when hundreds of students, staff and supporters protested at the Falmer campus.
Staff 'intimidated'
The university said it took action in the High Court after the "violent protest" led to damage.
It claimed protesters smashed glass doors at the entrance to the main administration building, Sussex House, damaged documents, fire alarms and CCTV cameras and daubed slogans on interior walls.
It said staff felt intimidated and had to be escorted from the building by security staff, but a student spokesman denied that the protest had turned violent.
More than 2,500 people have signed a petition organised by the protest group on Tuesday.
And protesters have pledged to continue fighting the legal action.
A member of Occupy Sussex told BBC News: "Bramber House remains legally occupied, which is extremely exciting and significant."
'Freedom to demonstrate'
He said solicitors and barristers had contacted the group, offering to represent it without charge, and said students would continue to fight both the possession order and the injunction.
Registrar and secretary John Duffy said: "The steps we are taking are specifically around the occupation and the violence we experienced on Monday.
"The university is categorically not banning peaceful demonstrations that don't involve occupations.
"We will continue to respect our students' freedom to demonstrate peacefully on our campus.
"While we had made it clear to occupiers that their sit-in was unacceptable, we had tolerated it for several weeks because we could contain it without undue disruption to the day-to-day operation of the university."