Hundreds protest over University of Sussex outsourcing plans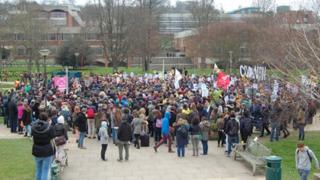 After suffering a brain injury at a demonstration over the increase of student tuition fees two years ago, it would be understandable if Alfie Meadows never attended another protest again.
But Mr Meadows, who was acquitted of violent disorder at Woolwich Crown Court in London this month, was a major draw at a demonstration over plans to outsource support services at the University of Sussex.
He had been accused of causing disruption during the December 2010 demonstration in central London, and was found not guilty at a retrial.
Mr Meadows had emergency brain surgery after he was allegedly hit with a police baton during the protest.
Students, staff and supporters from around the country congregated in Brighton on Monday to show solidarity with hundreds of their Sussex counterparts.
'Same struggle'
Addressing the assembly to loud cheers, Mr Meadows said: "Privatisation is the same struggle as in 2010, against tuition fees."
He spoke of protesters "needing revenge" for the way campaigners were treated during the 2010 tuition fees rally.
Among those lending their support to the protesters are unions including the National Union of Rail, Maritime and Transport Workers, politicians and members of the public.
A sit-in began in the conference centre in Bramber House on 7 February over the plans to outsource services including catering and estates management - and 235 campus jobs.
The protesters said the demonstration had gone from "strength to strength" after university officials granted open access, enabling open lectures to be held.
Their spokesman said the group had organised the demonstration after receiving messages from staff and students around the country asking how they could get involved.
Caroline Lucas, Green Party MP for Brighton Pavilion, has tabled an Early Day Motion over the outsourcing plans, which has been signed by 10 Labour MPs.
It says trade unions and the student union were not "properly involved in the outsourcing decisions", and that they "continue to feel excluded from the decision-making processes".
A statement of support from Ms Lucas was read out to the assembled masses.
Katy Clark, Labour MP for North Ayrshire and Arran, who signed the motion, said her region faced "exactly the same issues".
"The threat of privatisation is a threat to everybody", she said.
Greg Parsons, one of the affected members of staff, told the crowd a pop-up union had been formed in response to the outsourcing plans.
"We'll fight for our universities and we'll do that by any means possible," he said.
"We're going to fight against them as hard as we can and hopefully push for industrial action."
'Extensive improvements'
John Duffy, registrar and secretary of the University of Sussex, said the protesters had not liaised with the university or Sussex Police about the demonstration.
"They had not talked to us about any of the practical arrangements that those organising any protest event in a public space would be expected for health and safety reasons to undertake, for example risk assessments or stewarding plans," he said.
"We had taken reasonable steps - in conjunction with the police and with the Students' Union - to maintain the safety and well being of our all students, staff and campus visitors.
"The University does not condone this activity, which is against the interests of our students, staff and visitors."
In response to the Early Day Motion, the university said it had undertaken "extensive in-house improvements" in its services in recent years.
"This is about making a step-change in the services we offer our staff and students by working with high quality external providers, as we continue to grow as a university," the spokesman said.
"We have had extensive and ongoing discussions with the trades unions which have been productive and positive."