Crawley Town FC owners to sell club after three years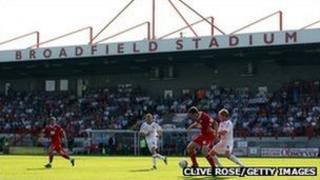 Crawley Town FC has been put up for sale after three years under the current owners.
The League One club underwent financial restructuring in 2010 with Susan Carter and the late Bruce Winfield securing external backing which helped pay off all their debts.
Since then the team have secured back-to-back promotions and reached the fifth round of the FA Cup twice.
Club chief executive Richard Low said the decision was "unselfish".
He said: "The last three years, if you can imagine, they've had successive promotions - the amount of work involved in that alone, without thinking about the amount of money it has taken," he told BBC's Late Kick Off.
"They [the owners] have given everything to make the club what it is today, which is a very sound football club.
"I think they've just got to the stage where they're really tired and genuinely want the best thing for the football club."