Eastbourne free school founders angry over being replaced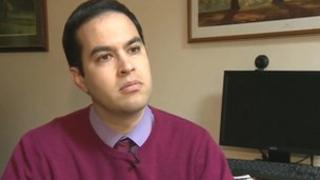 Parents and teachers behind an East Sussex free school have criticised the government after officials replaced the founders with a new school trust.
Gildredge House will open on a disused NHS site in Eastbourne in September.
But the ex-chairman of governors Edward Board, said officials interfered too much. He said local people had had the school vision and were then removed.
The Department for Education (DfE) said there had been concerns about the operation of the trust.
Mr Board said: "The people who proposed and worked really hard over the past two years to create this school have been completely removed from the picture.
"It matters because we were the proposers of the vision and ethos."
'Smooth transition'
He also said that before the government replaced the trust, officials said the project was going well, the founders had done a sterling job, and their numbers were very good.
A DfE spokesman said: "Due to concerns raised about the operation of the academy trust, the department decided a new trust needed to be set up to ensure the school opens this September."
He said the head teacher of the new school led the process and there had been a smooth transition.
"Teachers are in place and demand for places from local parents has been excellent," he added.
"The new trust will run a full six-week statutory consultation to ensure it can take account of all views."
'Rather worrying'
A statement from the new Gildredge House Trust said the DfE requested the formation of a new trust, but the majority of members had been involved from the start and would continue to put all their energies into making this school "a successful one that we will all be proud of".
It said the DfE was "delighted" with the school's progress, pleased with the site, and also that the first reception and Year 7 places were oversubscribed.
But Stephen Lloyd, Eastbourne's Liberal Democrat MP said: "For those parents who are interested in the free school, this must be rather worrying.
"Clearly this does need to be sorted out by the DfE and clearly I think parents do need answers."