Smash EDO protesters mark Iraq invasion anniversary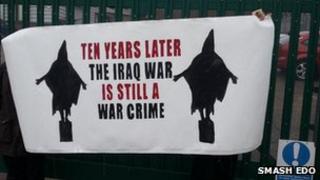 Campaigners from an anti-war protest group have chained themselves to the gates of an arms factory in Brighton with bike locks and superglue.
Smash EDO blockaded the gates of the EDO MBM Technology site in Home Farm Road at 06:00 GMT to mark the 10th anniversary of the invasion of Iraq.
One of the protesters said they wanted "to resist EDO's continued supply of components to the US/UK military".
Police said two people were arrested on suspicion of aggravated trespass.
Both were removed from the gates surrounding the site.
A third protester asked to be released by police, but was not arrested.
The force said seven other protesters remained at the scene, but were engaged in a peaceful protest and co-operating with police.
EDO MBM is an approved supplier to the Ministry of Defence and governments worldwide.