Funding for mosquito buzzing study at Brighton University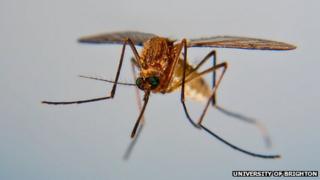 The buzz of the mosquito is to be studied by scientists in a bid to reduce the spread of malaria which kills up to 3,000 people every day.
The University of Brighton has been awarded a grant of £194,000 to help it understand how the insects use sound to attract mates.
Scientists say their aim is to find out how the buzzing sounds may be used to control breeding behaviour.
More than 1.2 million people died from malaria in 2010.
Professor Ian Russell, an auditory neuroscientist, will be leading the project with Dr Gabriella Gibson, an expert in mosquito sensory behaviour.
He said: "It has been known for some time that dulcet flight tones, the familiar whine people hear when mosquitoes fly close, are music to the male mosquito's ear, guiding him through sound alone to rendezvous with a potential mate."
'Harmonising duet'
The university said the male's hearing organ, found at the base of of its antenna, is the most sensitive of all known invertebrate "ears".
Professor Russell said: "We have shown that as soon as a male-female pair of flying mosquitoes can hear each other's flight tones, they enter into a harmonising duet, each adjusting the frequency of their own wing-beats to match."
The scientists will study acoustic distortions made when the tones of two mosquitoes buzzing are heard together by the female, and how it helps her recognize that the male is of the same species.
The £194,000 grant was made by the Leverhulme Trust which supports research and education.
Mosquitoes are the most common carriers of malaria and they spread the disease when females bite to draw blood.
According to the World Health Organisation, there were 219 million documented cases of malaria in 2010 and more than 1.2 million people died from the disease.
A BBC film on the effects of malaria was produced for Comic Relief 2013.
Mary & Martha, written by Richard Curtis, starring Oscar-winner Hilary Swank and Bafta-winner Brenda Blethyn tells the story of two women whose sons died from malaria in South Africa.