Sussex snow: Brighton buses halted and major roads shut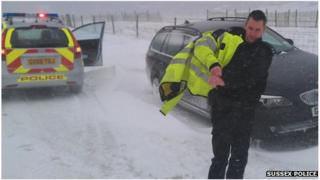 Major roads in Sussex have been closed and buses in Brighton have been halted after heavy snow across the county.
Sections of the A27 in East and West Sussex and the A29 in West Sussex were shut because of accidents.
Police said ice and snow had created "hazardous conditions" and drivers were warned to make allowances.
Brighton and Hove Bus Company halted services at 19:30 GMT, saying several were stuck across the city and its teams were busy dealing with them.
Stranded passengers were advised to ask the driver for assistance and the company said it would try to get services running later if conditions improved.
Southern trains was accepting passengers on its services.
'Potentially hazardous'
Earlier, the A259 between East Dean and Eastbourne was closed in both directions. Fairlight Road and Battery Hill near Fairlight were also closed.
Several schools in East and West Sussex were either closed or partly closed because of the snow on Monday and East Sussex County Council said others would close on Tuesday.
Sussex Police said officers had been called to a number of crashes across the county due to the weather.
A police spokeswoman said: "Spring may be just around the corner, but while it may be warm and cosy inside your car, it's cold, icy and potentially very hazardous outside it."
On the rail network, cold conditions caused signalling problems and there were delays between Hastings, Tunbridge Wells and Eastbourne.
Southern Trains said passengers faced delays of up to 30 minutes due to poor weather conditions.
Southeastern also said services may be delayed or cancelled because of snow and freezing temperatures across the network.
Passengers were warned to allow extra time for their journeys.