Eastbourne hospital maternity downgrade plan agreed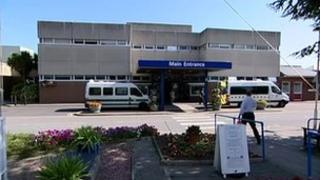 Plans for a temporary downgrade of maternity and paediatric services at Eastbourne hospital have been agreed by East Sussex Healthcare NHS Trust.
Hospital chiefs said the plans were put forward for safety reasons, after the trust had staffing shortages.
Consultant-led obstetrics, neonatal services, in-patient paediatrics and emergency gynaecology will remain at the Conquest Hospital in Hastings.
Eastbourne will have a stand alone midwife-led maternity unit.
It will also have enhanced paediatric care.
'No suitable doctors'
The trust said work would begin immediately and the changes would be in place in about six to eight weeks.
It said all pregnant women booked to give birth at the hospitals would be contacted and services would remain safe while the changes were made.
Trust chief executive Darren Grayson said: "Despite considerable effort over a long period of time we have not been able to recruit suitable doctors to fill essential posts in these specialities.
"This means we are over-reliant on temporary and agency staff and the measures we have put in place to ensure the units are safe have become increasingly complex and unsustainable."
Papers submitted to the meeting said: "For some patients some of the time the maternity and neonatal services operated by the trust do not deliver the safety and quality standards we would expect and require."
Journey 'too long'
When asked if the downgrade was the best option, Alan Keys, from patients' group Link, said: "I think it has to be, unfortunately, yes."
He added: "I think they [patients] should be worried if something is not done. I think they'll be much safer if something is done."
Campaigners who opposed the plans had said the journey between Eastbourne and Hastings was too long.
Liz Walke, from the campaign group Save the DGH, which opposed the changes at Eastbourne, said protesters wanted an independent body to see if both hospitals could keep their core services.
And staff at the trust also said care would suffer.
One paediatric nurse, who asked not to be named, said many more children would have to travel to Hastings while they were vulnerable and the changes would have "massive implications" for sick and long-term disabled youngsters.