Final track laid for Bluebell Railway extension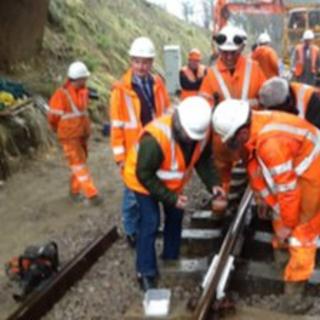 The final piece of track linking a volunteer steam railway in Sussex with the mainline network has been laid.
The Bluebell Railway will officially open its extended track, from Sheffield Park to East Grinstead, on 23 March.
The £3.5m project has taken nearly four years to complete, with workers having to remove 100,000 tonnes of domestic waste from the Imberhorne cutting.
Chairman Roy Watts said the Bluebell Railway had been isolated for many years and this was "the final hurdle".
The railway currently runs for nine miles from Sheffield Park to Kingscote but the two-mile northern extension will join it up with the national railway network.
Station building
The steam trains will be able to travel through to East Grinstead for the first time since 1965.
Meanwhile, a new station building at East Grinstead has been opened for passengers travelling to and from London.
It has a more spacious booking hall area than the old building, and also offers more bicycle parking facilities.
There are also new waiting shelters on the platforms, which have been lengthened to allow 12-carriage trains, providing an extra 5,000 seats at peak times.
Chris Burchell, managing director of Southern Railway, said: "It's been a long time coming, but our East Grinstead passengers have finally got the station they expect and deserve."