Missing Piers Hopson emails 'were unread for months'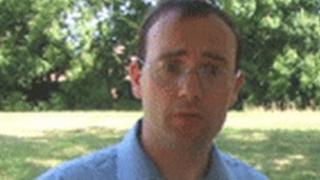 The parents of an East Sussex man whose body was identified two years after he went missing said unread emails caused them 18 months of grief.
In January 2010, Piers Hopson, 35, disappeared. Eight months later his body was discovered by a French boat.
His remains were not formally identified until April 2012 despite emails being sent to the UK in May 2011 with his DNA information.
The emails to the Maritime and Coastguard Agency (MCA) went unopened.
The person at the agency, to whom the emails were addressed, had gone on secondment so the messages went unread.
"The whole thing could have been wrapped up by December 2010 if people had done their jobs properly," his father, Roger Hopson, said.
"We spent a good 18 months hoping and praying that he was alive, whereas all that grief could have been saved."
Unread emails
Piers Hopson, who had Asperger syndrome, went missing after saying he was going for a walk.
The French trawler found his body off the coast of Newhaven and a DNA profile was taken in April 2011. The emails with the results were not read for another 12 months.
His mother, Dawn Hopson, said: "These emails were pinging across and no-one followed them up for months and months and months."
In a statement, the MCA apologised for contributing "to the upset at clearly a distressing time for the family".
"We now await the coroner's official determination, and should any recommendations be put forward, we will then look at our procedures," it said.