Disgruntled customer 'rams store on mobility scooter'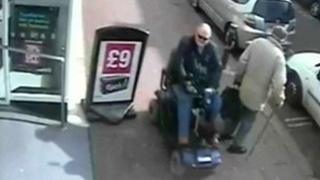 A disgruntled customer is believed to have rammed his mobility scooter into a Sussex supermarket window following a row with store staff.
Sussex Police said glass at the front of Bexhill Co-op in Western Road was smashed on Wednesday morning.
The force believes a man, captured on CCTV, caused the damage by deliberately driving his scooter into the window.
Officers have appealed for anyone with information about the incident to contact police.
The man is described as white, aged in his 60s, wearing a dark top, blue jeans and sunglasses.
A spokeswoman for Sussex Police said he was suspected to have "deliberately driven his scooter at the window, causing the damage".
She added that he may have had a dispute with store staff "over a customer service issue of some kind".
In a statement, Co-operative Food said: "We can confirm that the front window of our store on Western Road in Bexhill was damaged on Wednesday 6 March, after a mobility scooter was driven into it.
"CCTV has been passed to the police who are investigating."