'Final' Bognor Regis clown parade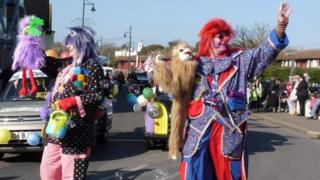 Clowns have paraded through a West Sussex town for what could be the final time.
Since 2006, an annual clown event has been held in Bognor Regis, organised by the town council, Clowns International and holiday firm Butlins.
But it is coming to an end because Butlins has decided to scrap its Circus Circus weekends following a review.
There is no agreement in place for next year, but a spokesman for the clowns said they hoped to return.
This year's is the eighth event since the clowns returned to Bognor after a 12-year absence.
Their return was brokered by Sylvia Olliver, the town's former mayor.
The parades served as the launch of the town's annual programme of events.
Butlins was providing free board and lodgings for the clowns along with space for workshops and meetings at its Bognor resort.
The town council said it would not be able to provide those facilities.
Ian Thom, Gingernutt the Clown, is the vice chairman of Clowns International.
'Very sad'
He said: "We don't want to give up our connection with Bognor, because we do have a long history with the town, even if it means coming back for a one-day or a weekend festival in a park somewhere perhaps.
"Plans are in motion, we're talking about it, but we need to talk to all the members."
In a statement, Butlins said: "We have supported the Clowns International Event for many years, but due to pressure on our expanding calendar of events this will not be possible next year.
"We have enjoyed a great relationship with the event organisers and will continue working closely with the local council to grow the tourist industry in Bognor Regis."
Eileen Anderson, mayor of Bognor Regis, said: "We will be very sad to say goodbye to the clowns and hope that perhaps in the future we may be able to work with Clowns International again.
"The council is very grateful to Butlins for so generously providing accommodation and board for our clown visitors."
The council arranged for the clowns to visit local schools and pre-schools in the days before Sunday's parade.