Marlie Farm depot blast families seek compensation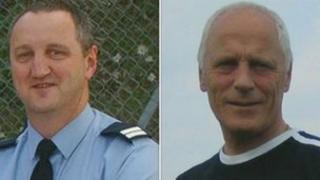 The families of two fire officers killed in a blast at a fireworks factory have taken their fight for compensation to the High Court.
East Sussex firefighter Geoff Wicker, 49, and fire service cameraman Brian Wembridge, 63, died in the fire at Marlie Farm, in Shortgate, in 2006.
Their families claim fire crews were "ill-prepared and poorly resourced".
Festival Fireworks owners - father and son Martin and Nathan Winter - were convicted of the men's manslaughter.
Mr Wicker was a retained firefighter and had served the fire brigade for 31 years.
Mr Wembridge had retired in 1994 after 34 years service, but returned the next day as a photographer and cameraman.
The pair were among the first at the scene on 3 December 2006.
Twenty others, mainly police and fire officers, were also injured in the massive explosion at the site, which sent fireworks and debris flying across the area.
The families of the eight injured firefighters are also seeking compensation.
On the first day of the hearing at the Royal Courts of Justice in London, counsel for the families explained that they thought there were a number of reasons why the tragedy happened.
These included lack of training for the firefighters, and a lack of information about Marlie Farm and a failure of the authorities to inspect the site regularly.
The court also heard that on the day of the fire there was not enough equipment, and radios were not working properly.
Also, the whistle that was blown to tell firefighters to evacuate the scene could only be heard by 16% of crews at the scene.
It was also claimed there was a failure of leadership in that those in charge that day told firefighters to withdraw when they should have been telling them to evacuate the site.
East Sussex Fire and Rescue Service denies negligence.
The case is expected to last three weeks.