Brighton and Hove considers child alcohol contracts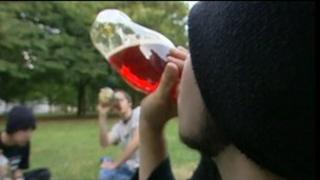 Contracts to be signed by parents pledging not to give their children alcohol are being considered by authorities in Brighton and Hove.
It comes after a report found children in the city were almost twice as likely as youngsters elsewhere in England to report they have been drunk three or four times in the previous four weeks.
The figure, at 9%, compares to 5% in the rest of the country.
The report said parents and siblings often bought alcohol for youngsters.
Written by Tom Scanlon, the city's director of public health, the report will be discussed by councillors on Tuesday.
It is against the law for under 18s to buy alcohol and for an adult to buy alcohol for them.
It is also illegal for under 18s to drink alcohol in licensed premises, except where they are 16 or 17 years old and accompanied by an adult.
In that instance it is legal for them to drink - but not buy - beer, wine or cider with a meal.
'Alcohol-free childhood'
The report said contracts with parents to not provide their children with alcohol has been signed at some schools in Rotterdam, which had a "very strong abstinence message for young people".
"The possibility of developing something similar in Brighton and Hove is under discussion, with a view to changing attitudes towards young people drinking alcohol," it added.
The report said seven 13 to 18-year-olds and 46 adults in the city typically attend A&E for alcohol-related issues each week.
It also found two people die as a result of alcohol abuse in the city every week and excessive drinking is estimated to cost taxpayers £107m a year.
"For many years alcohol consumption has been recognised as a serious public health issue in Brighton and Hove," it said.
A spokesman from Alcohol Concern said studies had shown that parents were often the main source of alcohol for underage drinkers.
"Many parents mistakenly believe they are introducing their children to sensible drinking, or preventing them from drinking outside the house by giving them alcohol at home," he said.
"In fact, all the evidence is that the best thing parents can do is set clear rules and boundaries for their children about alcohol, and give them an alcohol-free childhood."