Convicted wife withdraws Gambia murder appeal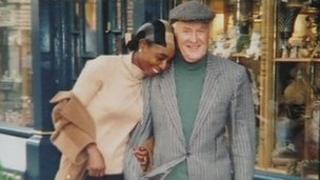 A Nigerian woman found guilty of murdering her 76-year-old husband in The Gambia has withdrawn an appeal against her sentence.
The body of William West, of Hastings, East Sussex, was found near his holiday home in July 2006 after he was reported missing by his 28-year-old wife.
A trial heard he had been set alight and his charred remains put in a sack.
His wife Kate West was spared the death penalty in The Gambia, and was jailed for life in November 2009.
Acting Chief Insp Paul Phelps of Sussex Police said the withdrawal of West's appeal would bring closure to the family.
"I just can't comprehend why Mrs West did the act she did, particularly on an elderly, vulnerable male who was dearly loved by the community he lived in," he said.
'Face consequences'
Family friend David Jenkins said: "I don't hate her in any way.
"I just think she did an appalling thing and she has been treated in the right way. I guess she is going to have to face the consequences of that in her own life."
West had claimed her Dublin-born husband went missing during a day-trip to Senegal on 3 July, 2006.
She said he had vanished while she waited outside a convenience store as he bought cigars, so she returned firstly to their Gambian home and then to the UK to look for him.
She had initially admitted murdering him with a wooden pestle before setting his body alight, but later denied the charge.
She was given a life term at Banjul High Court.