PTSD soldier Harry Killick stole gun and ammunition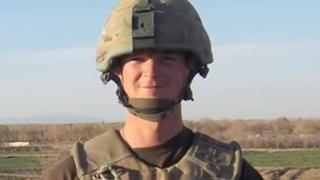 A soldier who stole ammunition and a gun from his barracks has been told he may escape jail because he had post-traumatic stress disorder (PTSD).
Harry Killick, 36, from Brighton, had returned to Britain from Afghanistan seven months before the thefts from a Territorial Army barracks in the city.
Lewes Crown Court judge Anthony Scott-Gall adjourned sentencing.
The court heard Killick was planning to kill himself when he stole the items.
He pleaded guilty last month to possessing a prohibited weapon and stealing a firearm and ammunition on 19 October.
Prosecutor Oliver Dunkin said that because of concerns about his mental state Killick was told on the day of the thefts he would not be going with the rest of his platoon to a firing range in Folkestone that weekend.
Killick, of the Princess of Wales' Royal Regiment, was told he would have to remain on duty to assist with supplying kit to the rest of the soldiers.
But the court heard there was a "slip" by a comrade, who left a "lethal" SA80 assault rifle unattended for 15 minutes, which Killick stole.
Mr Dunkin said he also took some ammunition with a plan to take his own life.
Killick drove to the home of his former girlfriend, Jackie Lothian, to seek answers about their recent split but when he rang the doorbell he was greeted by her brother, Jason, who said she was not in.
Killick covered the rifle with a jacket but Mr Dunkin said Mr Lothian did not fear for his life as it was not raised, but that Killick was "extremely emotional".
'No threat'
Mr Dunkin said: "Mr Killick looked like he was about to cry so that gave Mr Lothian strength. He knew that Mr Killick was in a fragile state at the time."
Killick was invited into the property and pulled out some ammunition and locked it into the weapon, but there was no threat to kill Mr Lothian, the court heard.
Later, Mr Lothian ran out of the house to a neighbour's home, where police were called.
Defending Killick, Stephen Wedd said that while he was in Afghanistan he saw members of his unit killed in an IED attack.
He said: "He's a proud, competent and efficient soldier.
"His intention on going to his ex-girlfriend was to speak to her about the breakdown of their relationship and thereafter to kill himself."
The court heard that two months before the theft, Killick had gone to Beachy Head cliffs, where he telephoned his sister who talked him out of ending his life.
Judge Scott-Gall said Killick had been damaged in the service of his country but he could make no promises about his sentence.
He said: "This is a very very serious case but it does present certain matters that the court cannot ignore - to do with justice, to the duty of society and the defendant.
"I need to know that if I take an exceptional course, that if I release you, you will have immediate treatment and if there is to be treatment, that it is fair to you."
Outside the court, his sister, Linda Killick said the family were encouraged by the judge's comments and hoped for a "just" sentence.
Sentencing is expected to take place within the next 14 days.