Hove murder: Heavy object killed homeless Lee Williams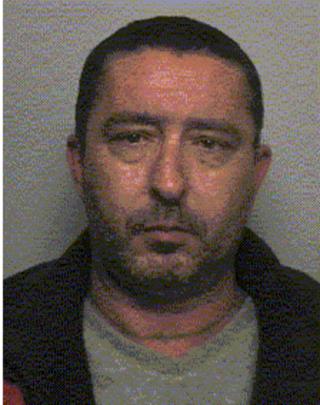 A homeless man who was murdered in what police have described as a "brutal, vicious and sustained attack" with a heavy object has been named.
Lee Williams, 45, who was originally from Hastings, was found dead next to the Hove pitch and putt on Monday.
He died from severe injuries to his face and head caused by a heavy object, post-mortem tests revealed.
Det Ch Insp Ian Pollard, from Sussex Police, said Mr Williams also suffered multiple fractures to his ribs.
He said: "We believe Lee was living in Hove for about a year and had a few friends within the homeless community but on the whole he was quite a private person."
Police remain at scene
He said Mr Williams was an alcoholic and had been living in an archway under the promenade looking on to the pitch and putt course.
The rough sleeper had been a regular at the Thursday night soup kitchen near the Peace Statue next to Hove Lawns, and bought his beer from the Londis store next to the Alibi pub on Kingsway, he added.
Officers have not established the time of the attack but believe Mr Williams was last seen on Sunday morning.
Det Ch Insp Pollard said: "Lee suffered a brutal, vicious and sustained attack causing multiple injuries to his face, head and body. We need to find whoever did this to him and bring them to justice - they should not be allowed to get away with this."
He urged anyone who knew Mr Williams or had seen him, or knew of any reason why someone would want to kill him, to contact the force.
He also said members of the homeless community who may not feel comfortable talking to the police could contact officers in strict confidence.
Earlier, police said the murder scene near Western Esplanade would remain cordoned off until the end of the week.
A large number of items such as food, drink, bedding and clothing had been found where he lived and each item was being forensically examined.