Protests as East Sussex council agrees £60m cuts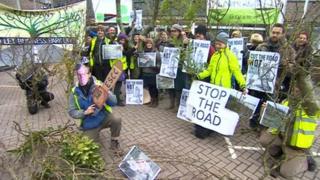 Union members and anti-road building protesters have demonstrated outside East Sussex County Council HQ as members discussed budget cuts of £60m.
The council agreed to freeze council tax for a third year running, but between 80 and 100 jobs will go as the savings are made over three years.
Unison said it was worried about cuts to services as well as members' jobs.
"It is a very tough budget but it is the best we can put together," said deputy leader Keith Glazier.
'Hit poorest people'
Mr Glazier said an amendment by the Labour group on the Conservative-led council to raise council tax by 1.95% in 2013/2014 had been defeated.
"[An increase] would have hit some of the poorest people in East Sussex so we are very pleased," he said.
The council said it would do its best to protect services and boost the East Sussex economy with better broadband and road links such as the Bexhill to Hastings link road currently under construction.
One of the link road protesters said: "They are cutting adult social care by £34m and they are cutting children's services by £14m amongst other things, so obviously that is going to have a huge impact on ordinary people.
"At the same time as they are pursuing what is basically a vanity project.
"It is a monumental waste of money, it is incredibly environmentally destructive and we just think this is not what we should be doing at this point."
Unison spokeswoman Amanda Parks said the meeting would be a "whitewash" of the proposed savings.
"They are already implementing cuts so we are coming out just to say it's not good enough," she said.
"There are regulatory roles disappearing, we are worried about social care.
"We are worried about not only our members' jobs but public services."
Mr Glazier said there was to be a review of earlier proposals to cut the number of refuges for people suffering domestic violence from five to four and there would be no cuts to after-school clubs for disabled children.
There would also be a reduction in the council's financial reserves over the next two years.