Sussex students continue to occupy university building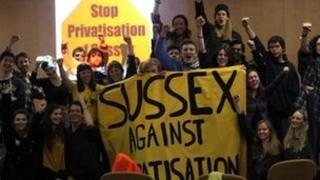 A group of students protesting over plans to privatise support services at the University of Sussex are continuing their sit-in at its conference centre.
It began on Thursday following a a 300-strong staff and student protest about proposals to outsource 235 campus jobs.
The university said about 30 students entered the third floor of Bramber House, remaining in the Terrace Room.
One of the students said more protesters had since joined them and their action would continue.
A spokesman for the university said the students had been given access to food, water and toilets, and were free to leave whenever they wish.
He said: "We're keeping the situation under review. The university campus continues to run as normal."
'Blatant disregard'
The university has said it wants to improve its campus services as it expands.
It stressed that there would be no redundancies and that all staff would be transferred to new employers under legislation governing transfer of undertakings in the public sector.
The demonstrators said they resorted to the peaceful protest after their views were ignored.
"The management at Sussex have shown a blatant disregard for the views and wishes of the campus community in the way that they have instigated these proposals," they said.
"The lack of transparency, and openness from a university that has a reputation as a "radical" institution, is tantamount to a management position which is eroding the spirit of Sussex.
"All methods used by staff and students to engage with management in discussion are being ignored."
They have urged the university to immediately halt its plans and to undertake "a full and proper democratic negotiation" with staff and students about the future of campus services.
The protesters also ask for student and trade union representatives to be fully represented and informed during all stages of future processes and decision making.