Jurors retire in Brighton footballers sex attack trial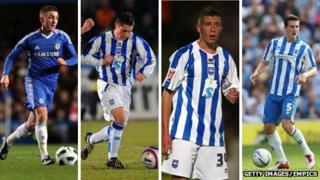 Old Bailey jurors hearing the case of four Brighton and Hove Albion players accused of sexual assault have retired to consider their verdict.
Anton Rodgers, 20, George Barker, 21, Lewis Dunk, 21, and Steve Cook, 21, deny sexual assault and voyeurism.
The prosecution alleges they humiliated a sleeping woman aged 19 at the Jury's Inn Hotel in Brighton for sexual gratification in July 2011.
But the footballers told the court the woman was awake, "giggling and bubbly".
The offences are alleged to have taken place after the players went clubbing to celebrate a win.
Jurors have been told the players exposed themselves in front of the teenager, wrote the initials GB in foam on the woman's thigh, assaulted the drunken woman when she was asleep and took pictures as a "record of their conquest".
Giving evidence, Mr Rodgers denied the woman was asleep and said she was "giggling, laughing and bubbly".
He said: "It was just a bit of boy banter. It was a laugh but it seems stupid now."
Mr Cook now plays for Bournemouth.
Jurors were sent home for the weekend and will return to resume their deliberations on Monday morning.