Brighton footballer 'exposed himself for photo'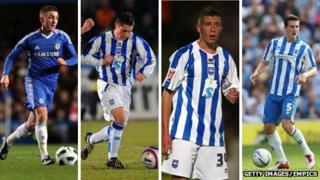 A Brighton footballer exposed himself in front of a sleeping teenager so his team-mates could take a photograph, the Old Bailey heard.
George Barker, 21, told the court he and five other players were "laughing and joking" in a hotel room where the 19-year-old woman had joined them.
He said Anton Rodgers was the first to pull his boxer shorts down and pose.
Mr Barker, Mr Rodgers, 20, Lewis Dunk, 21, and Steve Cook, 21, deny sexual assault and voyeurism.
The offences are alleged to have taken place at the Jurys Inn Hotel, in July 2011, after the Brighton and Hove Albion footballers had gone out to celebrate winning the Sussex Senior Cup.
'Laughing and joking'
Mr Cook now plays for Bournemouth.
Mr Barker, the first of the accused players to give evidence, said he and Mr Rodgers returned to their hotel room and went to bed, but were woken by the sound of voices and saw the woman sitting on their double bed.
"She was talking to us, having a laugh and joking, getting involved in the banter," he told the court.
"She got into the bed and got in between us under the duvet. We carried on laughing and joking for about 15 minutes," he told the court.
"Then she started kissing Anton, kissing his lips, snogging. She then rolled over and started kissing me on the lips."
He explained he had been initially "shocked" by her actions.
"She rolled back to Anton and started kissing him again, then she rolled back again and then started kissing me again," Mr Barker said.
"Then she fell asleep."
Mr Barker told the Old Bailey fellow players Ben Sampayo and Leon Redwood were also in the room.
'Initials in foam'
He then recalled how there was a suggestion photographs should be taken, before Mr Rodgers exposed himself for one as he stood on the bed next to the woman.
"I was laughing at him," Mr Barker said.
He said he also pulled his boxer shorts down and posed but, like Mr Rodgers, did not touch her.
He said he then left the room and when he returned he saw someone had written his initials in foam on the woman's thigh, and he posed with his thumbs up next to her.
He told jurors he saw four pictures taken before leaving the room, and the only time he saw any of the pictures was some days later when Mr Rodgers allegedly sent him a copy of the one showing his initials in foam.
The court was told it was the only picture found by police on any of the players' phones.
The trial was adjourned until Tuesday.