Bexhill to Hastings road: Protest site evictions resume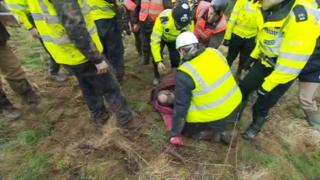 One protester has been arrested and 12 others evicted from another construction site along the route of a proposed new link road in East Sussex.
Combe Haven Defenders (CHD) said they were peacefully resisting eviction from land near Upper Wilting Farm, Crowhurst on the Bexhill to Hastings route.
Bailiffs evicted about 30 people from another site on the route 12 days ago.
East Sussex County Council leader Peter Jones said the activists were a "threat to democracy" and should "shove off".
Combe Haven Defenders said protesters were locked in the branches of trees and into tunnels on the site.
Bird-nesting season
In a statement on their website, the group, said: "The eviction of the third camp along the route of the Bexhill-Hastings Link Road began around 8.40am this morning.
"At 12.30pm there were some 70-plus security personnel on the site, as well as a considerable number of activists locked-on up the trees - including at least one at the top of a 50ft tree. The first arrest was reported around 12.20pm."
At 18:30 GMT, it said: "Climbing team and bailiffs have now left Decoy Pond camp for the day, leaving security guards and fencing behind.
"No-one yet removed from the trees."
Twelve protesters are thought to be spending the night suspended between branches, and it is understood the bailiffs will return to the camp on Tuesday morning to continue the eviction process.
The group hopes to delay the construction of the £93.8m link road until the start of bird-nesting season in March, when laws limit the cutting down or pruning of trees and hedges.
On Sunday, Conservative councillor Mr Jones said: "These groups represent a serious threat to our democracy.
"There was a major public inquiry in 2009 when all of the arguments they are advancing now were heard. So why don't they just shove off and leave us to get on with this scheme and deliver major benefits for our communities?"
East Sussex County Council has said the protests have already added another £4.5m to the project.
Sussex Police said 20 activists had been arrested since work on the link road began last December.
The new road will link the A259 and B2092, crossing Combe Haven Valley near a site of special scientific interest.