Sussex black ice alert after 40 crashes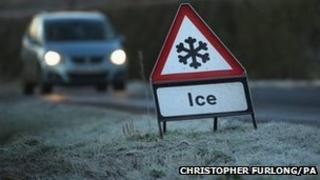 Rush hour drivers in East and West Sussex have been warned to take extra care after black ice caused dozens of accidents.
Police said there were more than 40 crashes between midnight and 07:45 GMT, mainly in rural areas.
More than 30 crashes involved single vehicles sliding off the road. No one was seriously injured.
"The ice cannot readily be spotted, so please slow down and allow extra time for your journey," said a spokesman.
South East Coast Ambulance said it had received 37 calls to traffic accidents by 09:00 GMT on icy roads across Kent, Surrey & Sussex.
Vehicle overturned
Roads affected in Sussex included the B2036 London Road in Balcombe, which was closed in both directions at the Handcross Road junction; Ditchling Road, Ditchling and the A24 in Horsham and Mill Road in Patcham at the A23 London Road junction.
A vehicle overturned on ice in Netherfield Road, Netherfield.
In Surrey, the B269 Titsey Hill in Titsey, near Oxted was closed at the White Lane junction, because of an accident and ice.
In Kent, Holt Street in Nonington and Nethersole Road in Woolage Green were partially closed because of accidents and ice.
The Environment Agency said rain falling on already saturated ground is likely to lead to flooding this week, although a clear start to Monday was forecast for south-east England.
Flood alerts have been issued for the Rother and the Cuckmere rivers in Sussex, the River Mole and the Thames in Surrey and the Medway in Kent.