Fernhurst victim attacked before house fire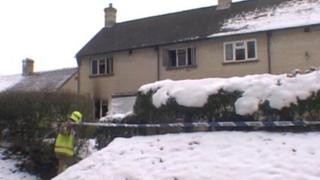 A man whose body was found in a burning house, prompting a murder investigation, had been seriously assaulted, police have said.
The body of 59-year-old Michael Griffiths was found at his house in Old Glebe, Fernhurst, on Thursday.
Sussex Police said a post-mortem examination had not established a cause of death and further tests were needed.
But Det Ch Insp Jeff Riley said he had serious injuries to his head and body.
At this stage, it was not possible to conclude firmly that Mr Griffiths's injuries had caused his death, he added.
'Jewellery and antiques'
Detectives believe Mr Griffiths may have been specifically targeted.
Det Ch Insp Riley said: "Michael was a well-known and popular local man who was a talented jewellery designer and maker and was an enthusiastic antiques buyer and seller.
"I am considering that this may have led to him or at least his home, being specifically targeted."
He added: "There is no doubt that we are dealing with a murder."
'Snowballs thrown'
He said fire investigators had found a suspicious seat of fire near the lounge window at the back of the house, and smoke patterns suggested the windows were open when the fire broke out.
Mr Griffiths also had callers on Tuesday evening who threw snowballs when he answered from an upstairs window, he added.
He said: "This may well have been an innocent prank, but we would also like to hear from them or anyone else who experienced a similar thing."
Police have urged everyone in Fernhurst, which they said had a close-knit community, to contact officers about anything suspicious or out of the ordinary that may have taken place in the days before the fire.
Officers especially want information about anything that happened between 06:30 GMT and 08:00 GMT on the day of the fire. Firefighters were called to the scene at at about 07:40 GMT.