Heathfield lost sheep reclaimed by Sussex farmer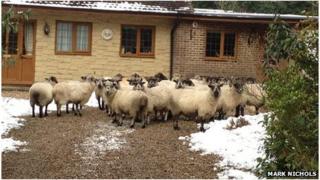 Lost sheep that were herded into a garden by police while officers tried to find the owner have been claimed.
The 28 sheep were found wandering in Heathfield on Friday and police asked the Nichols family if they could put them in their garden, which had a gate.
Cam Nichols said a local farmer visited them on Saturday and identified the flock as his son's.
She said the sheep were taken away on a trailer and the farmer cleaned up the garden and gave her a bunch of flowers.
The sheep had eaten plants and left enormous amounts of "poo" and caused her dog to go "ballistic", Mrs Nichols said.
The farmer told her he had been looking after the sheep while his son was on holiday and it had taken a while to realise they were missing.
Mrs Nichols did not reveal the local farmer's name.
But she said: "It's been 15 minutes of fame for us. We have made the news in New Zealand. We can't believe it."
News of #sheepgate spread around the world after her husband, Mark, revealed his frustration over the lost sheep in a tweet to Sussex Police and the couple also appealed on Twitter for help in finding the farmer.
On Friday, a spokeswoman for Sussex Police said the force had been very grateful to the Nichols family for keeping the sheep safe and also for their patience.
Mr Nichols sent out a fresh tweet on Saturday: "My #sheepgate life lesson. If the police ever ask you to look after sheep, #justsayno"