Sussex Police admit failings over St Leonards dog attack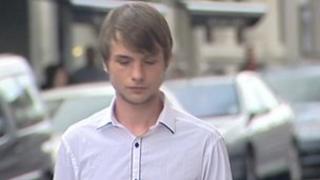 A dog attack which left 10 people bitten in one street could have been prevented by Sussex Police, the force has admitted.
The attack by two Staffordshire bull terrier crosses, in St Leonards, East Sussex, in July, left some of the victims with serious injuries.
It has emerged both dogs attacked a man two months earlier but their owner Spencer Brown was not arrested.
Brown, 22, was jailed for 12 months in August.
Supt Trevor Botting said: "The fact of the matter is if that first incident in May was dealt with more effectively we could have avoided the July incident.
"But I don't think there's any certainty around that given the courts would have been involved around the warrant procedure for dogs.
"Hindsight's very easy - yes it could have been avoided and we could have reduced the risk of that happening in July."
Dragged into cage
The dogs had escaped from Brown's home on 22 July.
Victims of the attack were bitten on their hands, arms and legs as the two dogs walked around the area with no leads, while those who came to the victims' aid were also bitten.
A passer-by dragged one of the dogs into a cage and police subdued the other with a fire extinguisher and a dog catcher pole.
One of the victims, Nigel Waughman, said he was mentally and physically scarred from the July attack and was seeking legal advice.
"I'm devastated because none of that carnage should have happened - it hasn't left me," he said.
"They should've been taken straight away."
In the first dog attack on 16 May the victim suffered multiple cuts and a broken finger after a confrontation between him and Brown.
Sussex Police said it was giving dog legislation awareness training to all its response officers, investigators and supervisors.