Lost sheep herded into Sussex garden remain unclaimed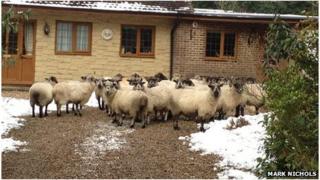 A couple who allowed police to herd 28 lost sheep into their garden while officers looked for the owner said they have not yet been claimed.
The wandering flock in the Heathfield area, in East Sussex, were reported to police at 03:00 GMT.
Officers knocked on Cam and Mark Nichols door asking if they could keep them in their garden as it had a gate.
However, the owner has not been found and the sheep have remained in the garden eating all the plants.
Mrs Nichols said: "Our dog was going ballistic at three o'clock this morning, which was followed by police knocking on the door saying they found some stray sheep and could they put them on our drive.
"We thought it was just a few sheep and it turned out to be 28 of them and they're still there.
"It's an entire flock and the police still haven't found the owner."
She said she had "foolishly expected" the sheep to have been claimed by now and the couple have resorted to Twitter to appeal for the owner to come forward.
"They poo enormous amounts absolutely everywhere, and have eaten every plant possible," she said.
"My neighbours think it's hysterical."
A police spokeswoman said officers have so far been unable to find the owner of the sheep and have asked them to make contact.
She said: "We are very grateful to the resident who has kept the sheep safe while inquiries are carried out and would like to thank him for his patience."