Woman 'too scared' to report sex assault charge players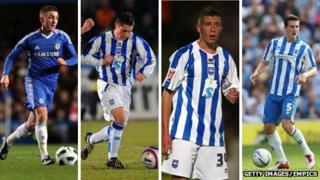 A woman who alleged she was sexually assaulted by four footballers has broken down in court after being questioned about lies she told police.
The 21-year-old became tearful after Sonia Woodley QC, defending former Brighton player Steve Cook, suggested she was mistaken about him.
Anton Rodgers, 19, Lewis Dunk, 21, George Barker, 21, and Mr Cook, 21, deny sexual assault and voyeurism.
The woman told the Old Bailey she was initially too scared to report them.
The three Brighton and Hove Albion players and Mr Cook, who now plays for Bournemouth, are alleged to have sexually assaulted the woman while she was asleep at the Jury's Inn Hotel in Brighton in July 2011.
Mr Rodgers and Mr Barker, both of Highview Avenue North, Brighton; Mr Dunk, of Woodbourne Avenue, Brighton; and Mr Cook, of Perth Road, St Leonards-on-Sea were arrested by Sussex Police in January 2012.
'Stupid stories'
The woman has denied she threw herself at the defendants, but admitted telling lies to police and her employers.
Her employers called police after she failed to turn up for work, but she lied to them about being assaulted in the street.
Giving evidence from behind a curtain on Thursday, she said she knew something bad had happened at the hotel.
"After this, they were taunting me, calling my name out in the street," she said.
"I didn't want to say who they were because I was scared. It's spiralled out of control.
"I am sorry for wasting police time. I didn't want to go to police, and then I had to make up these stupid stories."
She agreed Mr Cook did not shout at her in the street.
A friend with whom the woman had been clubbing earlier in the evening of the alleged assault told the jury they had each drunk between 10 and 15 shots of alcohol and shared a bottle of wine.
The woman left with two men after kissing one of them, the friend said.
The trial continues.