Brighton's West Pier partially crumbles into the sea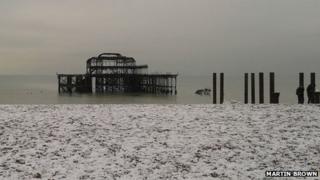 Part of Brighton's derelict West Pier has crumbled into the sea as a result of the cold weather conditions.
Its owners, the West Pier Trust, said the partial collapse of the eastern side of the Pavilion island happened sometime over last weekend.
The pier, which is not maintained and was shut to the public in 1975 as it was deemed unsafe, burnt down in 2003.
The trust said "as the elements gradually reclaim the structure, losses such as this are inevitable".
A statement said: "Thanks to the advanced Edwardian engineering of the pier, it has withstood decades of storms with minimal damage occurring.
"However, it is still very sad to witness when parts are lost."