Woman 'kissed and cuddled' accused Brighton footballers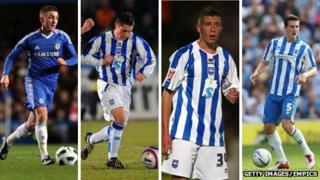 A woman who accused three Brighton and Hove Albion players and a Bournemouth footballer of sexual assault denied getting into bed with two of them.
At the Old Bailey, the 21-year-old said she did not try to kiss and cuddle George Barker and Anton Rogers.
The assaults allegedly happened at the Jury's Inn Hotel, in Brighton, in July 2011.
Anton Rodgers, 19, Lewis Dunk, 21, George Barker, 21, and Steve Cook, 21, deny sexual assault and voyeurism.
Mr Rodgers and Mr Barker, both of Highview Avenue North, Brighton; Mr Dunk, of Woodbourne Avenue, Brighton; and Mr Cook, of Perth Road, St Leonards-on-Sea - who now plays for Bournemouth - were arrested by Sussex Police in January 2012.
'Interest in footballers'
The woman has accused the footballers of assaulting her while she was passed out in the hotel room.
She denied a suggestion by Mr Rodgers' defence lawyers that she had been awake at times during the night and had joined in the "larking about".
Brian O'Neil, QC for Mr Dunk, said she had a "keen interest in footballers" and at one stage was pursuing three Brighton players.
The woman said she had been seeing one player later in the year, but denied that she had "thrown herself" at the defendants after being snubbed by one of the players she was friendly with.
She admitted telling lies to police and her employers but said she was telling the truth about having no recollection of what went on in the room.
Mark Cotter, Mr Barker's defence lawyer, told the jury: "I suggest to you that Mr Rodgers and Mr Barker were in the double bed in their boxer shorts and you got into bed between them.
"I suggest you initiated an attempt to kiss and cuddle Mr Rodgers and then did the same with Mr Barker."
The woman replied: "I definitely did not."
'Awful' row
Earlier, the court heard that the four players wanted to have "a permanent record of their conquest" and took photos on their mobile phones.
Mr Cotter said the woman was "a prolific liar" who had lied about photographs she had seen.
She was asked if she had "seriously exaggerated" the contents of the pictures.
She replied: "It was humiliating and they should not have done it. They have to live with it."
The woman, who was 19 years old at the time, said she had been drinking in clubs but denied having 15 shots of alcohol before passing out.
After missing work the following day, fearing that she would be sacked, she told her bosses that she had been attacked in the street.
She said she had told more lies after they insisted on calling the police.
She changed her story six months later after an "awful" row with another Brighton and Hove Albion player who she had been sleeping with, the court heard.
The trial continues.