Sussex Police warn of cars sliding off icy main roads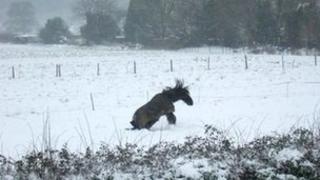 More snow is expected across Sussex overnight with gritters continuing to treat the county's roads.
Train services will be affected on Monday, with Southern Rail running an amended timetable.
Sussex Police tweeted that cars had been sliding off the A27 between Wilmington and Polegate because of ice on Sunday.
They also reported that 4x4s were becoming stuck in snow on Hammerpond Road, near Horsham, in West Sussex.
Gatwick Airport said it operated with "minimal disruption" over the weekend, praising a new fleet of snow clearance vehicles.
East Sussex County Council said it would be concentrating on gritting major routes throughout Sunday.
'Treacherous'
It advised motorists that main roads would be passable with care being taken.
Police said the A267 near Frant was blocked in both directions following a collision due to "treacherous" road conditions.
And the A22 at Wych Cross, in Forest Row, had been reported as being blocked by the snow.
The Met Office said snow would continue into Sunday evening.
It said Monday would be cold and mostly cloudy with some further sleet and snow at times, particularly through the afternoon.
The enhanced content on this page requires Javascript and Flash Player 9
Map Key
Land
Cloud
Lakes, Rivers & Sea
Fog
Light
Heavy
Frost
Light
Heavy
Pressure Fronts
Cold
Warm
Occluded
Rain
Light
Heavy
Extreme
Snow
Light
Heavy
Temperature tab only
Temperature (°C)
More details from BBC Weather