Gritters keep Sussex roads clear after heavy snowfall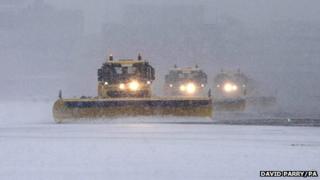 Gritters are continuing to work around the clock to ensure the main routes across East and West Sussex are kept clear following heavy snowfall.
Further snow flurries are possible on Saturday but more significant snow is forecast for Sunday.
Air passengers, motorists and rail travellers faced disruption on Friday, while 275 Sussex schools were closed because of the snow.
Gatwick Airport said disruption was minimal due to snow clearance vehicles.
Match postponed
However, it has advised passengers to check the status of their flight with the airline before travelling to the airport, and to allow extra time for their journey.
Southern Rail has been running an amended timetable and fewer services, but it said a normal Saturday service would operate although some routes would be affected by "major improvement works".
Services on First Capital Connect were also disrupted on Friday, and passengers were urged to check its live train updates page before travelling and allow extra time for their journey
The weather has also lead to the postponement on Saturday of the League One football match between Crawley Town and Carlisle United at the Broadfield Stadium because of problems with the pitch.
BBC South East weather presenter Kaddy Lee-Preston said freezing temperatures would remain across the weekend "with many places struggling to reach even 1C and feeling bitter in the strong winds".
She said temperatures would fall on Friday night to -3C.
Many places will not see any snow on Saturday, although there is a chance of a few flurries which could amount to a further 2cm.
She added: "Ice is also a concern and surfaces will be prone to ice throughout the weekend
"On Sunday, there is a weather system moving up from the continent which could give large amounts of snow.
"Details are difficult to pinpoint at the moment but it's the type of situation where we could get 5cm or more of snow."