Eastbourne Langney Centre roof collapse leads to 19 redundancies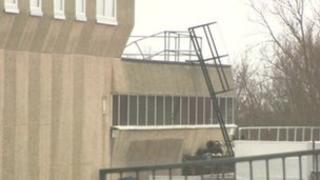 A cafe based in a shopping centre which has been shut since part of its roof collapsed has made 19 people redundant.
Langney Shopping Centre in Eastbourne was declared dangerous on 20 December after the collapse and has remained shut since.
The Windmill Cafe said it had been forced to make the redundancies.
Wealden District Council has sent samples of the concrete to a building pathologist to find out why the collapse happened.
Cafe owner Carol Denyer said: "We've had to lose most of our staff and made 19 redundant as we've no idea when it's going to open."
'Mortgages to pay'
The building's steel lattice roof collapsed after a night of heavy rain and wind, but the council's building control officer Paul Dunstall said at the time he did not believe the weather was to blame.
He said that if the centre had been occupied there could have been fatalities and many serious injuries.
Ms Denyer said: "Making the redundancies was awful - some of them had to go on Christmas Eve and some last week once we realised it was going to be longer.
"They've all got families and mortgages bills to pay.
"We don't know whether we're going to lose our livelihoods."