Bexhill to Hastings road: Bailiffs evict road protesters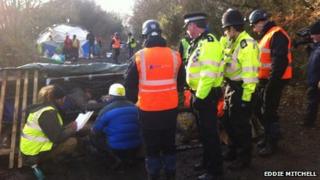 Police and bailiffs have begun evicting protesters from an anti-road building camp in East Sussex.
Up to 30 activists have set up the site dubbed "the second Battle of Hastings" to halt the construction of the £93.8m Bexhill to Hastings link road.
More than 30 bailiffs and security staff arrived at the camp near Crowhurst on Wednesday morning and started evicting protesters.
Five people were arrested on suspicion of aggravated trespass and obstruction.
Campaigner Patrick Nicholson, 47, said: "Most of the protesters are secured via different forms of locks.
"They are not easy to get out, and that includes people in treehouses and tunnels.
"The authorities have to do what they have to do. But I think if the bailiffs leave the site, people may well move back in and secure themselves to trees."
Activists built tunnels to prevent heavy machinery getting on to the site. Some fixed themselves to trees and other obstacles.
One protester, who is know as Simon Sitting Bull, has locked himself into a 15ft tunnel.
He told BBC South East Today: "I have high energy food, water, containers for urinals and large bin-liners for defecating in.
"I don't think they will pull me out. I think they will gently ease me out, hopefully."
Contractors started to clear the trees and undergrowth in December in preparation for construction work on the link road.
Anti-road campaigners took their protest to the trees in Combe Haven Valley at the same time.
The road will link the A259 and B2092, crossing Combe Haven Valley near a site of special scientific interest.