Bexhill to Hastings link road activists 'to resist eviction'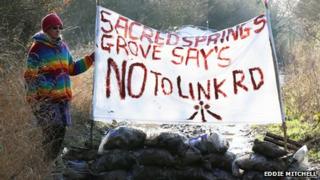 Protesters involved in an anti-road building campaign dubbed "the second Battle of Hastings" have vowed to stand firm amid fears they could be evicted.
Up to 30 activists have set up camp in the East Sussex countryside in their attempt to halt the construction of the £93.8m Bexhill to Hastings link road.
Andrea Needham, from Hastings, said bailiffs "could come any time" but people were ready to resist eviction.
Six people have been charged over the protest since work began on the site.
Contractors started to clear the trees and undergrowth last month in preparation for construction work to begin.
'Poor rail network'
Activists took their protest to the trees in Combe Haven Valley at the same time.
They have also built a tunnel to prevent heavy machinery getting on to the site at Crowhurst.
The road will link the A259 and B2092, crossing Combe Haven Valley near a site of special scientific interest.
East Sussex County Council said environmental work, including archaeological surveys and creating new habitats for wildlife, began last July and the road was "crucial" to help regenerate the local economy.
However, Ms Needham, who is a school governor, said although Bexhill and Hastings could do with regeneration, "there is no evidence that building a road creates economic regeneration".
"What everyone says is needed is improved links to London instead," she said. "The rail network is poor, as are the roads to London."
Council leader Peter Jones has said it will enable the building of up to 2,000 new homes, business park space of 50,000 square metres and create more than 3,000 jobs, as well as bring economic benefits worth £1bn.
It is also claimed that the road will ease congestion and improve air quality on the busy A259 at Glyne Gap.