Sussex beach erosion 'threatens' Pagham homes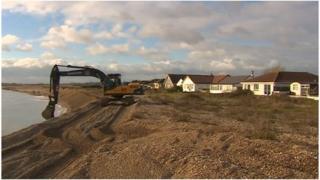 People living along part of the West Sussex coastline have said urgent action is needed before beach erosion destroys their homes.
According to residents in Pagham, nearly 10m (32ft) of beach has been lost in the last two months.
They will meet the Environment Agency, Arun District Council and West Sussex County Council later.
Residents claim recommendations made in a report two years ago have yet to be carried out.
It was suggested a channel could be cut through a spit to re-open the harbour mouth.
'Nature takes course'
Gary Frostley, who lives on the seafront, said his house is currently 15m (49ft) from the sea.
He said: "We've been putting pressure on the Environment Agency to do something for some time.
"Basically their policy is for nature to take its course. Whether that's to save money or a genuine policy I'm not sure.
"The fact is they've been protecting a spit that causes the problem."
However, Andrew Gilham from the Environment Agency said: "Cutting a channel through the spit or undertaking other modifications to it was one of a number of different options [considered].
"What the report concluded was that we couldn't say with any certainty which was the right one to undertake at the moment and it recommended closely monitoring the situation."