West Sussex £8.25m council fund helps flood-hit areas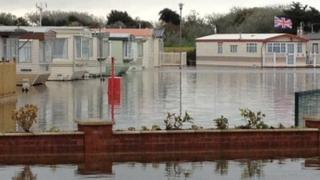 An £8.25m fund to carry out work in flood-hit areas of West Sussex has been set up by the county council.
The announcement follows heavy rain over Christmas and severe floods in June last year.
Council leader Louise Goldsmith said the authority had promised action after last summer's floods and recent wet weather had brought "even greater urgency".
She said the money had come from the council's reserves.
The funds will be used to carry out work in the parts of the county that have been the worst-affected by floods recently.
A list of highway drainage and environmental improvement schemes is being drawn up with priority given to areas that have seen repeat flooding.