Eastbourne Langney Centre shops remain closed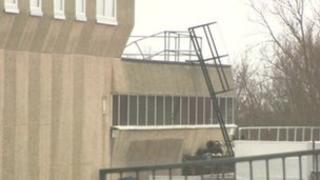 A shopping centre declared dangerous after a section of the roof collapsed is to remain shut to allow specialist analysis of the structure.
Langney Shopping Centre in Eastbourne was closed on 20 December after the roof above the seating area for the Windmill Cafe caved in.
Wealden council said parts of the building had been sent for analysis after a site meeting with the owners.
Samples of reinforced concrete will also be taken for expert assessment.
'Crucial investigations'
The steel lattice roof collapsed about 04:30 GMT after a night of heavy rain and wind, but the council's building control officer Paul Dunstall said at the time he did not believe the weather was to blame.
He said that if the centre had been occupied there would have been fatalities and many serious injuries.
The council said the centre's owners, London and Associated Properties, met structural engineers, loss adjusters and insurance representatives at the centre on Monday.
"The results of the investigations are crucial to the understanding of how and why this structural failure occurred," said a council spokesman.
"It is hoped that they will be made available as soon as practicable so that an informed decision can be taken about when the centre can reopen."