Crawley fundraiser Charlie Doherty to visit Malawi school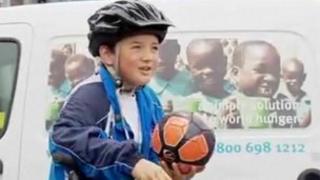 A 12-year-old boy who raised thousands of pounds for charity by refusing birthday presents is to visit a school he helps to support in Africa.
Charlie Doherty, from Crawley, West Sussex, asked for donations to the charity Mary's Meals instead of presents from the age of six.
He has raised a total of £20,000 for the charity, also taking part in sponsored cycle rides and hikes.
He will spend his 13th birthday at Ipyana Primary in Malawi on Monday.
His donations help to support the school, in the northern district of Karonga, through the charity's Sponsor a School campaign.
'Incredible boy'
"I can't wait for the trip," said Charlie, who flies to Malawi on Friday after his family and friends paid for the visit.
"It's going to be amazing and great seeing the message of hope that is passed through Mary's Meals."
He was told about the trip after hiking to the the summit of Mount Snowdon during his latest charity fundraiser on 23 December.
His brother Gerarde, mother Julie and friend Rob Cook climbed with him.
In 2011, Charlie and his mother cycled 500 miles from Brighton to Mary's Meals offices in Glasgow.
"Charlie is an incredible boy and we are extremely grateful for all he has done for us over the years," said founder Magnus MacFarlane-Barrow.
"I'm always touched by all the acts of kindness which so many people like Charlie do to support our work, and which make it possible for us to provide a daily meal to hundreds of thousands of children living in some of the world's poorest countries."