Hove death woman Evelyn Stevens 'feared for safety'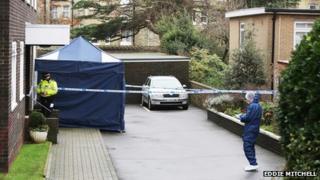 The case of an elderly woman whose body was found in the street in Hove, sparking a murder inquiry and arrest, has been referred to the Independent Police Complaints Commission (IPCC).
Officers have not formally named the woman, who was found on Thursday, but believe her to be Evelyn Stevens.
Sussex Police said the IPCC referral followed previous contact between the woman and the force.
Neighbours said Mrs Stevens had been concerned about her safety.
A statement from the police force said: "Sussex Police has today made a referral to the IPCC following previous contact between Mrs Stevens and police.
"This is a matter of standard procedure."
'Locks changed'
One of Mrs Stevens's neighbours, Jo Hewitt, said she had heard from a friend that the elderly woman had just changed her locks.
She said: "The first thing she [the friend] knew, that there was a problem, was the police knocking her door down.
"She came out and said 'I've got keys because she has just changed her lock' but it was too late by then."
Mrs Stevens's body was found in The Drive outside her flat in Baltimore Court at about 07:00 GMT.
A 49-year-old man arrested on suspicion of murder on Thursday was still being held in custody on Friday.
Police have said Mrs Stevens and the arrested man were known to each other, but were not related.
Appealing for information, Det Ch Insp Ian Pollard said: "We are continuing to investigate how Mrs Stevens came to her tragic death and are exploring a number of possibilities."
He said a post-mortem examination was taking place on Friday and added: "I would not want to speculate at this stage about how Mrs Stevens died."
Other people living nearby have spoken about their shock and horror at what happened.
Neighbour Liz Posner said: "I can't tell you how shaken we all are, because she just didn't deserve whatever end she had, which must have been horrendous. She didn't deserve it. No-one deserves it."