Eastbourne shop centre 'dangerous' after roof collapses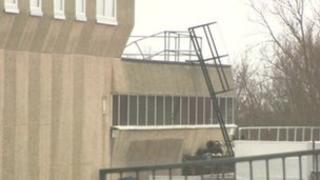 A shopping centre in East Sussex has been closed and declared dangerous after a section of the roof collapsed.
Flats above Langney Shopping Centre in Kingfisher Drive, Eastbourne, had to be evacuated, with residents describing hearing a loud thud about 04:30 GMT.
Building control officer Paul Dunstall said if the centre had been occupied there would have been fatalities and many serious injuries.
London and Associated Properties said it did not know when it would reopen.
"It is a Godsend that it happened when it did," said Mr Dunstall.
'Dangerous structure'
An investigation is under way into what caused the collapse of the roof over the seating area for the Windmill Cafe but Mr Dunstall said he did not believe it was caused by heavy rain.
"We have been up on to the roof and other sections of the roof are not holding water at all," he said.
"But we have to be very sympathetic to the tenant shopkeepers at this time of Christmas who have had to be evacuated because we don't know why this section has failed."
Mr Dunstall, assistant building control manager for East Sussex Building Control Partnership, said the roof, of steel lattice girders in a grid of concrete beams, was the same across the whole centre.
"We have had to call it a dangerous structure because we don't know why this section has failed.
"We have to take the view that this this could be a potential catastrophe for other parts of the building."
Owner London and Associated Properties said its own team of building inspectors had been at the site.
It said it did not know when the centre would reopen, but would keep all concerned informed.