Petworth House transformed into Balthazar's Palace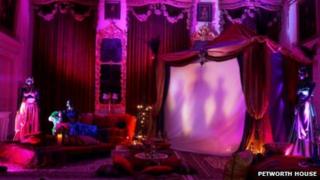 A 17th Century house has become the imagined palace of the Middle Eastern king, Balthazar - one of the three kings who visited the new-born Christ.
Inspired by a 15th Century painting, Petworth House in West Sussex has had the makeover for the festive season.
Moroccan wall hangings and furnishings adorn all of its showrooms.
The Adoration of the Kings, attributed to Hieronymus Bosch, hangs in the Somerset Room and shows the three Kings presenting their gifts to Christ.
The National Trust said it was the first time a property had had "such a dramatic and all-encompassing makeover".
Conservation assistant Jacky Brown said: "It's been fascinating watching the rooms take shape; the Red Room is now a Throne Room, the Marble Hall is now a Midnight Garden filled with a fountain, trees, butterflies and bird song, and the smart Square Dining Room that I know so well is a harem."
Members of the public can visit Balthazar's Palace up until 15:00 GMT on Sunday.