Angler rescued from burning boat off Beachy Head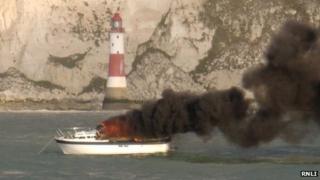 A man has been rescued after his fishing boat caught fire two miles off the East Sussex coast.
Two lifeboats were launched when distress flares were spotted off Beachy Head at about 10:30 GMT on Tuesday.
The angler onboard the 27ft cruiser Knowwanda was taken to hospital and treated for smoke inhalation.
The boat was towed to the beach east of Eastbourne Pier where the fire was put out. The vessel was beyond repair and was abandoned on the beach.
A RNLI spokesman said the angler was a local man in his early 60s.